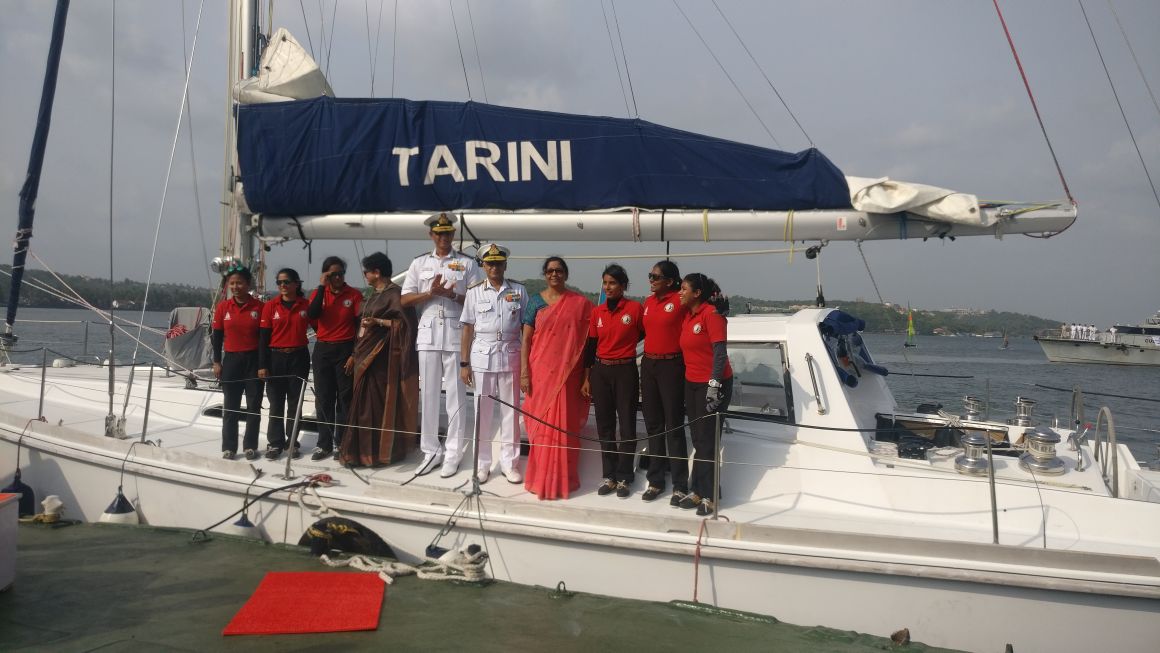 What:  Navika Sagar Parikrama
Who: All-women crew
When: Sep. 17, 2017-May 21, 2018
After completion of a historic global circumnavigation voyage, Indian Naval Sailing Vessel Tarini (INSV Tarini) entered Goa harbour and came alongside the INS Mandovi jetty on  on 21 May 2018.

The all-women crew of Tarini was received at the jetty by Raksha Mantri  Smt. Nirmala Sitharaman, who had also flagged them off on September 10, 2017.

It was a poignant moment for the "Navika Sagar Parikrama" team which included a number of naval personnel who worked behind the scenes from the time of origination of the idea of circumnavigation by an all women crew, right through the planning, implementation and training till the successful execution of the voyage.

This is the first-ever Indian circumnavigation of the globe by an all-women crew.

The vessel was skippered by Lieutenant Commander Vartika Joshi, and the crew comprised Lieutenant Commanders Pratibha Jamwal, P Swathi, and Lieutenants S Vijaya Devi, B Aishwarya and Payal Gupta.

During her 254 day long voyage, the vessel has covered over 22,000 Nautical miles, visiting five countries – Australia, New Zealand, Falkland Islands (UK), South Africa and Mauritius. At each of these countries the crew received a rousing welcome both from the Indian diaspora as also from the local community.

During the course of her voyage, the vessel has met all criteria of circumnavigation, viz. crossing the Equator twice, crossing all Longitudes, as also the three great capes (Cape Leeuwin, Cape Horn and Cape of Good Hope). The expedition was covered in six legs, with halts at 5 ports: Fremantle (Australia), Lyttleton (New Zealand), Port Stanley (Falklands), Cape Town (South Africa) and Port Louis (Mauritius).

 INSV Tarini : 

The indigenously-built INSV Tarini is a 56-foot sailing vessel, which was inducted in the Indian Navy in February 2017, and has showcased the 'Make in India' initiative on the International forum.

Navika Sagar Parikrama: The expedition titled 'Navika Sagar Parikrama' is in consonance with the National policy to empower women to attain their full potential. It has showcased 'Nari Shakti' on the world platform and helped change societal attitudes and mindset towards women in India by raising visibility of their participation in challenging environs.  

The crew also collated and updated meteorological, ocean and wave data on a regular basis for accurate weather forecast by India Meteorological Department (IMD), as also monitored and reported marine pollution on the high seas. They interacted extensively with the local populace, especially children, during the port halts to promote Ocean sailing and the spirit of adventure.